The 3DS may have been put out to pasture by Nintendo, but the retirement of a system isn't always a sad occasion – it gives you the perfect chance to look back on its impressively varied library with wonder; along with plenty of standout platformers, life sims, rhythm games, and puzzlers, the 3DS also carved out a particular niche by delivering an almost non-stop barrage of first-class RPGs.
Responsible for plenty of late-night gaming sessions and many players' most embarrassingly long Activity Log entries, the 3DS' proud stable of RPGs is a huge part of the system's appeal, and its legacy is worth celebrating. To that end, we've put together a list of our favourite 3DS RPGs.
Our choices are presented in no particular order, and we stuck to retail releases to narrow the field a bit – but no matter what type of adventure you're after, the 3DS has something for you; these suggestions should keep you exploring for years to come!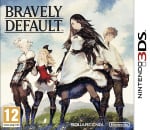 Publisher: Square Enix / Developer: Silicon Studio
Release Date:
7th Feb 2014 (USA)
/
6th Dec 2013 (UK/EU)
Few games exemplify the 3DS' status as a haven for JRPGs as well as Square-Enix's Bravely Default. This epic adventure takes a plucky team of four heroes on a quest to revive a dying world, combining the airships-and-crystals feel of PlayStation-era Final Fantasy titles with all mod cons, including adjustable random encounters, fast-forwardable battles, augmented reality cutscenes, and a fantastic StreetPass implementation. Its Brave/Default system offers one of the freshest takes on turn-based battling we've seen in a long time, and makes leveling up the creatively varied Jobs — everything from Knights and Thieves to Ninjas and Vampires — a joy. The sequel, Bravely Second: End Layer, makes plenty of improvements, but we recommend starting with the first to enjoy them both to the fullest.
Level 5's answer to the monster-collecting craze, this family-friendly adventure sees you guiding a young protagonist through a Saturday morning storyline as they meet, befriend, and battle eccentric and often unhinged spirits from Japanese folklore. The combat is a fun mix of automated attacks and hands-on management, as you wheel Yo-Kai in and out of battle in real-time, and trace, tap, and spin the screen in quick-fire mini-games to charge up special moves. The random nature of making monster friends can frustrate, and its fetch quests may be less appreciated by older players, but the value of Yo-Kai Watch's whimsy and wonder shouldn't be underestimated. Its recently released sequel is iterative rather than evolutionary, but still well worth playing as well.